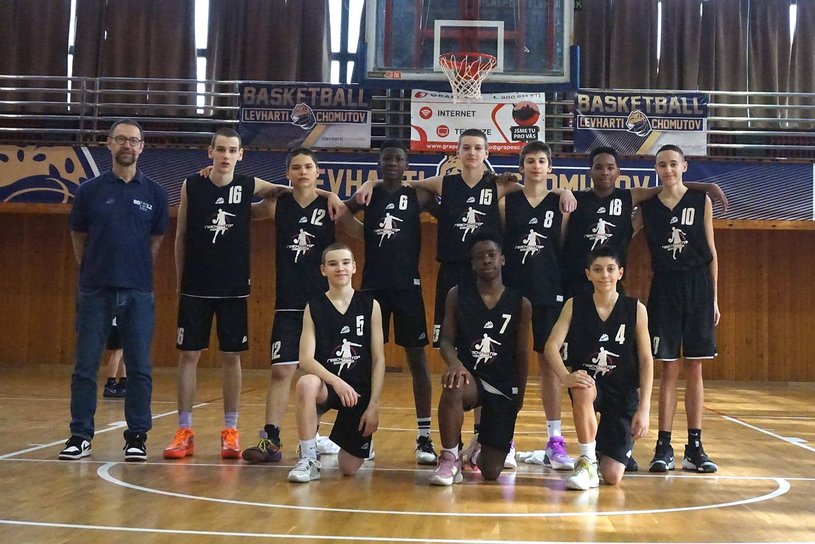 Reach the Top nahm im Rahmen einer CEYBL - Veranstaltung vom 24. bis 26. März an Spielen in Chomutov teil.
Bericht B. Hofmann:
Das Reach the Top Team des BBLZ kehrt auch vom dritten Turnier der internationalen CEYBL MU14 Liga mit der hervorragenden Bilanz von 4 Siegen und 1 Niederlage zurück.
Wir besiegen am ersten Tag sowohl das Team des Veranstalters Levharti Chomutov als auch ADFORS Basket Litomysl in zwei knappen umkämpften Spielen.
Der zweite Spieltag startet mit einem an Spannung kaum zu überbietenden Double Overtime Krimi gegen die Auswahlmannschaft aus Thüringen, den wir als die glücklichere Mannschaft und dank einer hervorragenden Freiwurfleistung in der Verlängerung für uns entscheiden können. Die Mannschaft aus Decin erweist sich auch im dritten Aufeinandertreffen als das bessere Team und gewinnt deutlich.
Das letzte Turnierspiel gegen WKK Wroclaw können wir nach einer geschlossenen Mannschaftsleistung klar für uns entscheiden.
Für ausführliche Statistiken, großartige Photos und Videos von allen Spielen darf ich auf die CEYBL Homepage www.ceybl.eu verweisen.
Es spielten:
Akil Agbogbe (BC GGMT Vienna)
Godfrey Asuke (BC GGMT Vienna)
Kwemto Asuzu (BC GGMT Vienna)
Boris Cavic (BBC Tulln)
Arthur Chen (BC GGMT Vienna)
Aleksej Grujcic (BC GGMT Vienna)
Vuk Ristic (BC GGMT Vienna)
Igor Trajchev (BC GGMT Vienna)
Filip Vukovljak (BC GGMT Vienna)
Jakob Weissenböck (Mistelbach Mustangs)
Levharti Chomutov : BBLZ Reach the Top 50:55 (25:25)
BBLZ Reach the Top : ADFORS Basket Litomysl 48:41 (26:19)
Thuringia Select Team : BBLZ Reach the Top 66:71 (24:22, 59:59, 63:63)
BBLZ Reach the Top : Valecnici Decin 41:101 (23:50)
WKK Wroclaw : BBLZ Reach the Top 41:64 (21:34)
Das große Final - Turnier mit den sechs besten Teams, für das sich das Reach the Top Team als zweitplatzierte Mannschaft der Regular Season souverän qualifiziert hat, findet von 6. bis 8.4.2023 in Zielona Gora, Polen statt.